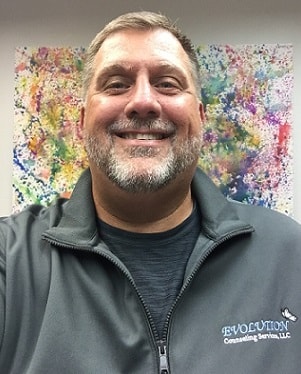 Jeff Colbert - LCSW
Co-Owner / Clinical Director
Evolution Counseling Services, LLC.
Jeff has been a resident of Blair County all his life. Born and raised in Martinsburg, PA, he is a resident of Williamsburg, PA with his wife and twin daughters. He is a licensed clinical social worker in the state of Pennsylvania working with children and families since his graduation from Juniata College in 1998 with a BA in Communication/Criminal Justice. Jeff earned his Master of Social Work (MSW) in May 2013 from Shippensburg University. He is also a trained outpatient therapist and nationally certified to deliver Trauma-Focused Cognitive Behavioral Therapy (TF-CBT) at Evolution in an outpatient setting. He has experience working and supervising within the FFT and Delinquency Prevention programs. Jeff leads the supervision of bachelors and masters level interns at Evolution. Evolution ALLIES is a passion of Jeff's in implementing and providing support for LGBTQI populations (kids and families). Jeff has a wealth of professional and volunteer experience in various related child serving and social service agencies and organizations.

In the community, Jeff is an assistant varsity football coach for the Central Scarlet Dragons. He has coached football since 1998. He volunteers for the Williamsburg Youth Baseball and Softball League regularly. He serves on the social work education advisory boards for both Saint Francis University and Juniata College. Jeff brings a diverse commitment to success from his numerous clinical and supervisory experiences.